Do you live in Sarasota and love to bike? This one is for you! Plenty of places to enjoy biking in Sarasota at wonderful parks around the city. 
The Venetian Waterway Trail is one of Florida's most popular trails. This scenic trail is almost ten-miles and follows along both sides of the Intracoastal Waterway. As is it takes you around the ocean north and somewhat east, it also offers some spectacular views. If you are paying attention, you might even catch a glimpse of one of Florida's rare pine trees!
As you bike through Venice, the northern end of the trail eventually connects to Legacy Trail at the Historic Venice Train Depot in downtown Venice!
Amenities and Activities: Playgrounds, picnic shelters, grills, observation areas and vistas, dog clean-up stations, dog water station, trash and recycling receptacles, restrooms, four trailheads, seven parking locations, bicycling, rollerblading, walking/running, dog walking, fishing. No motorized vehicles allowed. 
Additional information: There are several access points and places to park along the Venetian Waterway Park in order to get on and off the trail easily. Refer to the local map for more details. 
This bike trail is one of a kind! It was originally a railroad corridor and is now gives us a small glimpse into Florida's railroad history! Legacy Trail is a 12.5-mile trail that runs between Sarasota and Venice, and it also winds through  Oscar Scherer State Park You can even veer off onto some of the park's trails directly from the Legacy Trail. The rather exposed ride travels along the southern outskirts of Sarasota and ends just south of Sarasota. This trail is smooth and paved, and much of the trail is tree-lined, sheltered from the wind, and quiet, making it a beautiful and easy trail for all! 
Amenities and Activities: bicycles, trails, pet-friendly park, picnic facilities rest stop, shaded benches, restrooms, and a  wildlife/bird watching area. 
Additional information:
There are multiple trailheads with free parking that make getting on and off the trail easy! The trailheads are located at: Culverhouse Nature Park in Sarasota, Legacy Trail Access-McIntosh Road in Sarasota, Osprey Junction Trailhead in Osprey, Oscar Scherer State Park in Nokomis, Laurel Park and Sandra Sims Terry Community Center in Laurel, Nokomis Community Park in Nokomis, Nokomis Riverview Park in Nokomis, Patriots Park in Venice and Historic Venice Train Depot in Venice. 
Robinson's Preserve is a 7.5-mile loop trail located in the northwest corner of Bradenton, just east of Anna Maria Island and south of Tampa Bay. This paved trail keeps you close to the water and is good for all skill levels when it comes to biking! This is not a ride intended to make you break a sweat, however it is full of great views as you cycle through mangroves. You can even see the Sunshine Skyway on the horizon!
Amenities and Activities: Dog-friendly, hiking, canoe and kayak rental, playground, picnic area, trailhead, boat launch, observation platforms and benches. 
Additional Information: Open 8 AM to sunset. The gate closes automatically, so be sure to return to the parking area well before the posted time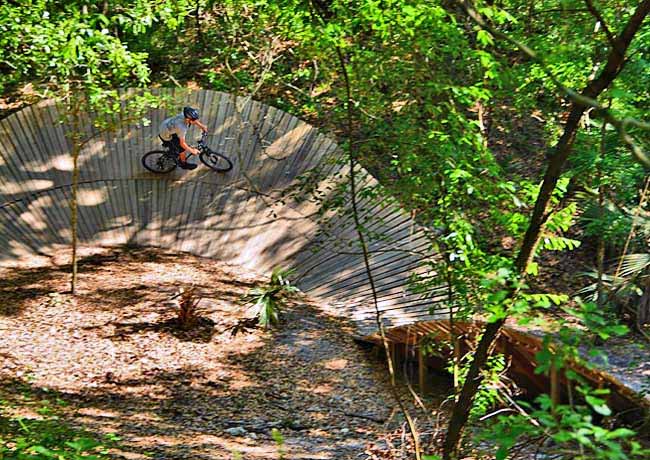 If you are up for a challenge, Alafia River State Park Bike Trails is the place to be! Known as some of Florida's best off-road trails, the park itself covers over 6,200 acres and has twenty miles of pristine off-road biking to offer beginners, pros, and everyone in between!
Originally created as an old phosphate mine, Alafia River State Park Bike Trails are built on rugged terrain and can be a rather challenging ride full of dips and rises. Although it is known as one of the more elevated trails that Florida has to offer, the park includes include easy, intermediate, and difficult trails; it is an enjoyable and challenging experience for riders of all abilities!
Amenities and Activities: bathrooms, bike repair station, pavilions, grills, volleyball net, playground and trailhead parking. 
Additional Information: Park opens 8 a.m., trail closes 7 p.m. and park closes at 7:15 p.m. 
For more recreation in Sarasota ideas, connect with 941area for biking and other things to do around the city. Best of all? It's free! 
Comments
Related Posts in Bradenton & Sarasota Recreation
Best Bike Trails in Sarasota
Indoor Attractions In Sarasota
Escaping Reality is Easy at these Sarasota Escape Rooms
Top Attractions in Sarasota
Most Stunning Instagram Backdrops in Sarasota!
Best Date Spots in Sarasota to Finally Meet Your Online Match In-Person!